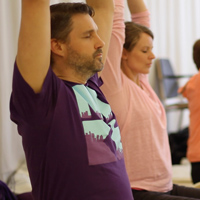 A course for those who have basic medical knowledge (physiology and anatomy) and wish to learn how to teach patients/clients how to use simple, proven, yogic tools.
Worldwide, we are seeing how care sectors are taking a growing interest in how we work with yoga. Reducing costs is attractive to everyone and patients are beginning to understand that there are techniques they can do themselves to help them feel a bit better. 
COPENHAGEN, DENMARK
Six (6) days, 2 x 3 weekends, with homework between. Starting 2020.
BAKERSFIELD, CALIFORNIA
Six(6) days, 3 weekends over 12 weeks, with homework between. Starting February 9th 2020. Apply here
What is an MediYoga Instructor?
MediYoga instructors are medical professionals who have trained in the basics of MediYoga to instruct and teach others. Instructors have access to three different toolboxes containing various breathing and yoga exercises plus meditations, all of which are fully proven within The US (California), Swedish, Danish and Norwegian healthcare.
Some of our instructors are nurses, doctors and physiotherapists who guide their patients in the use of simple tools. Some are full-time MediYoga practitioners who specialise in a specific area such as children, stress etc.
Instructors can also continue their MediYoga training to become MediYoga therapist and -teacher. Read more here.
As a certified MediYoga instructor, you will have access to our Instructor Service including marketing support, yoga programmes, audio files, videos of training days, link to our store where you are eligible for reseller discounts, link and access to our Instructor forum on Facebook where you can chat and contact other MediYoga instructors. You will also have access to our Instructor Register where you can add your own details together with a presentation and image, which will make you searchable on our international website, mediyoga.com, for all our visitors searching about MediYoga.
Scope
The practical side is just as, (or even more ) important as the theoretical side, which is why you have to have your own experience and practice of the three toolboxes provided, to fully understand why and how MediYoga works.
The course includes 40 hours of scheduled teaching time and appr. 80 hours of theoretical home study, self-training and individual training as an instructor. Practical work is a big feature of the course deal and is based on you doing your own yoga training every day and working independently as an instructor e.g. practice how to instruct on your own clients, patients, friends and colleagues.
Goal
You will learn how to teach simple and proven yogic tools for self-healing. Your patients, clients and/or students can then, in turn, improve their own situation and start on the road towards better health and wellness.
The techniques that are included in the course have been tested in a large number of studies in cooperation with the Swedish and Norwegian health service since 1998. In The US since 2014.

On successfully completing the course, you will receive a International MediYoga Instructor diploma and a International MediYoga Instructor pin.
To be awarded a diploma, you must have attended all scheduled study sessions and have completed, submitted your home study assignments and got them approved by your teachers.
Click here to read more about the course content
Who can apply?
This course is designed for care personnel and other applicants with basic knowledge of anatomy and physiology. You need to have knowledge corresponding to basic medicine stage 1. If you are a certified psychologist or psychotherapist, you are also qualified to apply.
Do you need additional medical knowledge? Here is a link to a distance learning course that our students have recommended on the basics in anatomy and physiology that we require.
http://www.universalclass.com/i/course/anatomy-and-physiology.htm
Materials
The following materials are included in the course:
Compendia, yoga programmes etc. are distributed by the teacher on class days.
CD/downloads of yoga programmes and meditations
Recordings of each course day that are posted on the internet
International MediYoga Instructor Diploma and pin (on satisfactory course completion)
All of the course material is available to download.
Cost
"Choose City" above to know cost per location.
A deposit is payable within two (2) weeks, 14 days, after approved application. The balance must be paid no later than a month before the course starts. A link to the payment will be send to you by mail as soon as your application is approved. We accept the exchange rate of the day.
Payment terms and conditions
The registration fee will not be refunded if you cancel less than two weeks before the start of the course. An administration charge of 50 EURO will be deducted from cancellation refunds made earlier than this.
If you discontinue the course less than four (4) weeks before it starts, the course fee will only be repayable on submission of a doctor's certificate showing valid grounds for this.